TRUMPedUSA 19'94
D

evided States of

A

merica
19-
---
04. April 2019
Trump via Golf verstehen: Ein Gedicht!
2.4.2019 Audible
Rick Reilly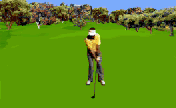 HOW GOLF EXPLAINS TRUMP
7 Std., 31,13 €, Audio-CD, Ungekürzte Ausgabe. Englisch. Auch als Buch und e-book.
An outrageous indictment of Donald Trump's appalling behavior when it comes to golf — on and off the green — and what it reveals about his character.
Donald Trump loves golf. He loves to play it, buy it, build it, and operate it. He owns 14 courses around the world and runs another five, all of which he insists are the best on the planet. He also claims he's a 3 handicap, almost never loses, and has won an astonishing 18 club championships.
How much of all that is true? Almost none of it, acclaimed sportswriter Rick Reilly reveals in this unsparing look at Trump in the world of golf.
Kein Match ohne Betrug?
Zum Brunnen geht der Krug
Bekanntlich bis er bricht
Trump glaubt sowas nicht
 
Er soll beim Golf betrügen
Würde Rick Reilly lügen?
In seinem neuen Thriller
Ist T. ein Wahrheitskiller
 
Ob wer zuschaut oder nicht
Lügen sei für Donald Pflicht
Kolumnist Sports Ilustrated
Hat ihn am Golfplatz geratet
 
Betrügt auf höchstem Level
Licht ist nie unterm Scheffel
Ohne Notwendigkeit sogar
Den er spielt ganz offenbar
 
Sehr gut, was man so hört
Doch etwas weniger betört
Als er sich selber darstellt
Handicap 2,8, das gefällt…
 
"Wenn Trump Handicap 2.8 hat, dann ist Queen Elizabeth Stabhochspringerin." (Rick Reilly)
.
---
---
---